The Caves
Nestled in the heart of Touraine, not far from the Château de Villandry, the caves were used as former quarries of limestone in the Middle Ages. 

About 100 million years ago, in the secondary era, a shallow sea covered the region. Masses of chalks were deposited at the bottom. Once in the open air, these formed a dominant rock in the Loire Valley: the limestone "Tuffeau". This soft stone, but hard enough, was used to build the most elegant Castles of the Loire Valley.

Over time, the arena of water, highly concentrated with calcium carbonate, has created a wonderful enchantment with all types of limestone concretions: stalactites, stalagmites, wavy and serrated draperies... Sparkling concretions cover the original rock with a palette of colors going from pure white to deep orange.

Real touristic exploitation of this site began with the discovery of a second cave in 1947. Three speleologists, inhabitants of Tours, rushed into a fault and found a huge room. As early as 1966, and after some years of development, the owners opened the cave to the public and gave a new interest to the visit with a greater tour.
This artificial way in the rock allows to reach rooms where traces of ancient exploitation of limestone are more important, and to meet rooms where waterfalls offer to the eyes calcite of admirable purity.


To conclude the visit of the nature's work, we offer visitors a wine tasting in the cellar equipped for that purpose at the heart of the second cave.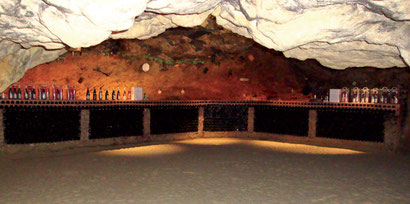 Les Grottes Pétrifiantes de Savonnières Villandry :
61 route des Grottes Pétrifiantes - 37510 Savonnières -

Tél : 02 47 50 00 09